INFORMATION FOR SCHOOLS

DinoPark is a very good destination not only for school trips but also for the teaching of natural history. Besides paleontologically faithful models commemorating Mesozoic nature, pupils and students can learn about different types of dinosaurs, about the evolution of life on planet Earth, the movement of the continents and more. Everything has been elaborated in an entertaining and attractive form that will excite children and their teachers. Each DinoPark also has a captivating presentation of artifacts from the ancient past – the pavilion Journey to Earth's Past often features actual findings in the Czech Republic. In DinoPark, refreshments are available for the school trips at DinoCafé and DinoGrill. Young students will also find a fair amount of children's attractions and paleontological ground with a hidden skeleton of a prehistoric creature.

A trip to some of the DinoParks can be connected to a visit to an adjacent zoo as well. Specifically, these are DinoPark Pilsen, DinoPark Vyškov (admission to the DinoPark also includes Zoopark Vyškov, where pupils can especially see animals indigenous to this area), DinoPark Bratislava and DinoPark Košice (in both cases, there is a joint ticket for DinoPark + Zoo).

Each DinoPark has a 3D or 4D Cinema, which is included in the ticket price. A screening can be reserved for an entire class.
3D Cinema: Pilsen, Ostrava, Bratislava, Košice
4D Cinema: Liberec, Vyškov, Prague



Parking for the buses generally depends on the location:
DinoParks Ostrava, Vyškov, Bratislava and Košice – Free parking in the main car park
DinoPark Pilsen – Parking at the lower entrance to Pilsen Zoo, fee 80 CZK
DinoPark Liberec – Buses cannot park in the garage. You can leave the bus and later get back on it at the bus stop behind the City Hall opposite F.X. Salda Theater (about 100 m from the Plaza). Your bus can meanwhile park in any of the many parking lots on the outskirts of the city.
DinoPark Prague – Buses cannot park in the garage. You can leave the bus and later get back on it outside the Harfa shopping mall.

School trips need not to be ordered in advance, each DinoPark has sufficient capacity. Simply arrive at any time during the opening hours.

We do not sell tickets in blocks. For school trips and excursions, teachers get in for free (1-2 teachers per class).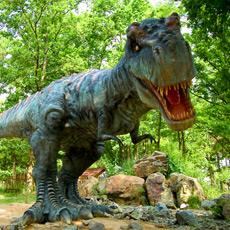 DinoPark Zoo Pilsen
A forest park near the Pilsen Zoo with dozens of life-size dinosaurs. Gigantic Apatosaurus, the most photographed T-Rex, a pond with waterfall, a view of all Pilsen from Brachiosaurus, children's attractions, swings and slides.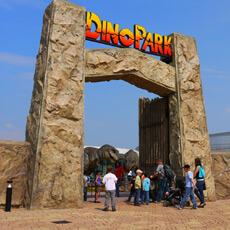 DinoPark Prague
DinoPark on the roof of Harfa shopping mall overlooking Prague. Eye-catching 11 m tall Therizinosaurus, pair of robotic tyrannosaurs, children's jungle gyms and mist device for refreshment on hot days. Near the city center,
free parking.
DinoPark
Zoo Vyškov
The unforgettable DinoExpress ride, 311 m long DinoBike cableway, giant Quetzalcoatlus with nest, Megalosaurus, children's jungle gym, swings, observatory with the opportunity to look at
the sun. Forest park with plenty
of nooks for relaxation.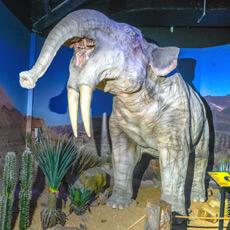 DinoPark Liberec
Indoor DinoPark at the Liberec Plaza open year-round. Mesozoic storm with actual rain, rope jumping castle, photo shoot with live crocodiles, DinoTrek, DinoLaser, and much more. The most comprehensive
DinoPark in the country.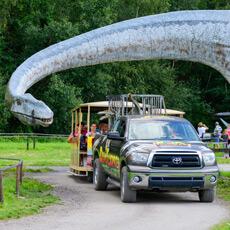 DinoPark Ostrava
The largest DinoPark in the country, 15 km from Ostrava in an area full of fun. DinoExpress ride, Mesozoic volcano, DinoMaze, mini zoo, DinoRace, trail of the nimble Deinonychus, a huge Seismosaurus, children's area
with lots of slides.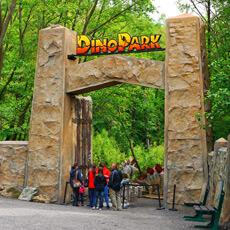 DinoPark Zoo Košice
Wonderful small valley with a stream full of dinosaur models at the Košice Zoo, view from Stegosaurus, robotic Liopleurodon, captivating scene with a giant Diplodocus in a swamp.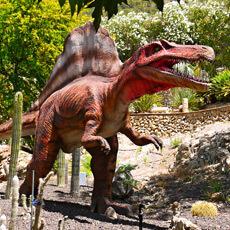 DinoPark Algar
DinoPark is 17 km far from the Benidorm summer resort. Moving and static models of dinosaurs in a cactus garden, fountains with turtles, Mesozoic wading pool, beautiful natural scenery and the weather
still sunny.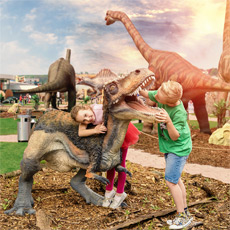 DinoPark
Köki Budapest
Egyedülálló, állandó attrakció nyitja meg kapuit a KÖKI tetőteraszán, 2023.09.01!
Az 1,5 hektárnyi területen mezozoikum kori élőhelyüket idéző környezetben fedezhetitek majd fel az őslényeket.
Choose which
DinoPark

interests you.
---