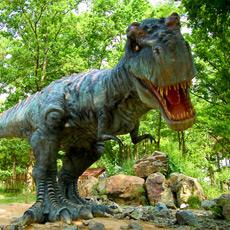 DinoPark Zoo Pilsen
A forest park near the Pilsen Zoo with dozens of life-size dinosaurs. Gigantic Apatosaurus, the most photographed T-Rex, a pond with waterfall, a view of all Pilsen from Brachiosaurus, children's attractions, swings and slides.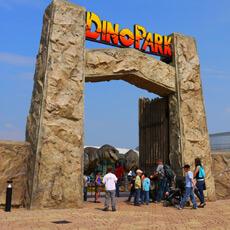 DinoPark Prague
DinoPark on the roof of Harfa shopping mall overlooking Prague. Eye-catching 11 m tall Therizinosaurus, pair of robotic tyrannosaurs, children's jungle gyms and mist device for refreshment on hot days. Near the city center,
free parking.
DinoPark
Zoo Vyškov
The unforgettable DinoExpress ride, 311 m long DinoBike cableway, giant Quetzalcoatlus with nest, Megalosaurus, children's jungle gym, swings, observatory with the opportunity to look at
the sun. Forest park with plenty
of nooks for relaxation.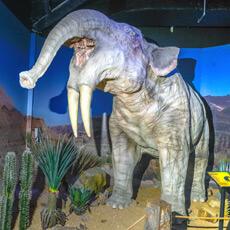 DinoPark Liberec
Indoor DinoPark at the Liberec Plaza open year-round. Mesozoic storm with actual rain, rope jumping castle, photo shoot with live crocodiles, DinoTrek, DinoLaser, and much more. The most comprehensive
DinoPark in the country.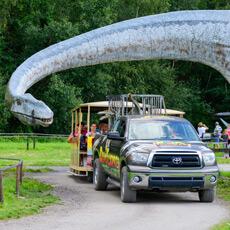 DinoPark Ostrava
The largest DinoPark in the country, 15 km from Ostrava in an area full of fun. DinoExpress ride, Mesozoic volcano, DinoMaze, mini zoo, DinoRace, trail of the nimble Deinonychus, a huge Seismosaurus, children's area
with lots of slides.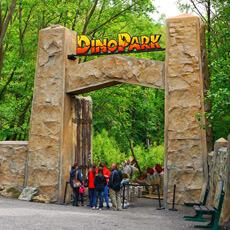 DinoPark Zoo Košice
Wonderful small valley with a stream full of dinosaur models at the Košice Zoo, view from Stegosaurus, robotic Liopleurodon, captivating scene with a giant Diplodocus in a swamp.
DinoPark Zoo Bratislava
Part of the zoo near the center of Bratislava, links current fauna and extinct dinosaurs, children's attractions and climbing frames, photo corner at DinoExpedition, herd of robotic Parasaurolophs
in a pasture, huge
Giganotosaurus.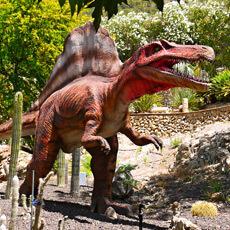 DinoPark Algar
DinoPark is 17 km far from the Benidorm summer resort. Moving and static models of dinosaurs in a cactus garden, fountains with turtles, Mesozoic wading pool, beautiful natural scenery and the weather
still sunny.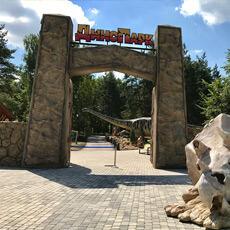 DinoPark Belgorod
The beautiful environment of a forest with mysterious lake and swamp, dozens of life-size static and robotic models of dinosaurs, a unique 3D cinema, DinoMuseum with replicas of finds hundreds of millions of years old from all over the world, and children's attractions together with a new zoo.
Choose which
DinoPark

interests you.
---
About us

---

DinoPark is a unique concept of themed amusement parks in the Czech Republic, Slovakia, Spain, and since August 2017 in Russia as well. DinoPark is a unique network introducing visitors to the mysterious world of dinosaurs in their actual forms and acquainting them with the Mesozoic environment. DinoPark offers wonderful moving and static models of the ancient rulers of our planet in life-size form, children's attractions, DinoClub, friends Fino Dino and Dina Mina, and much more. The motto of DinoPark is to bring joy to small and large DinoFans alike, to provide knowledge, entertainment and experience never to be forgotten. Every year DinoParks welcome more than 1 million visitors.
Why DinoPark?

---

Every DinoPark is different

Embark on an epic adventure into the Mesozoic Era. Seeing one DinoPark is not enough, each on eis different, each on eis unique. DinoPark is ideal for a family day out.

It shows the mysterious world of the Mesozoic Era

DinoPark reveals the previously unknown world of dinosaurs. Kids will have fun and likewise take away new knowledge about the history of our planet Earth.

3D Cinema

Each park has a 3D cinema made specifically for DinoPark. The entrance to the cinema is included in the ticket price to DinoPark.

All for the comfort of children and their parents.

Each DinoPark offers refreshments, playgrounds, parking, and a DinoShop with dinosaur souvenirs. Children can play and parents relax.

Every year new scenes, new models, new surprises and fun

DinoPark prepares new additions every year in the form of new models and scenes, as well as non-traditional play and entertainment features.

DinoPark is suitable for children of all ages

The smallest, small and large visitors will find something in DinoPark to amuse and interest them. DinoPark is not only a source of entertainment for children, but also knowledge.
Choose what interests you
---
Opening hours

Admission

Contact